Our trainers are carefully selected and are top class; names that are both well known and respected.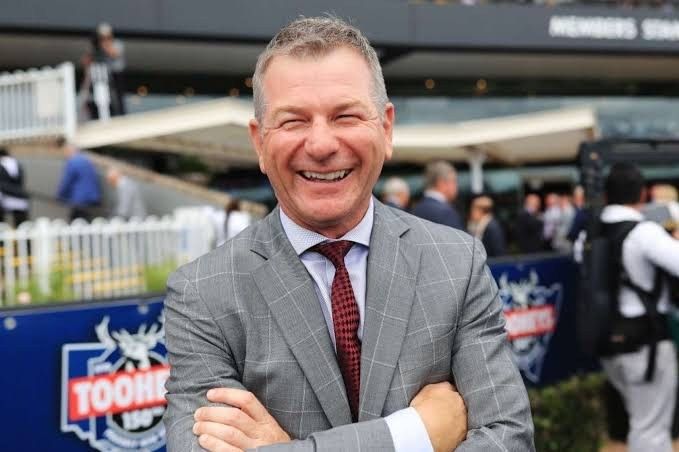 Kris Lees
Kris Lees has been Prime Thoroughbreds NSW trainer since December 2005. Kris is now established as one of Australia's very best trainers.
He has done a remarkable job for Prime Thoroughbreds and is a pleasure to deal with.
Kris Lees has been Prime Thoroughbreds NSW trainer since December 2005. Kris is now established as one of Australia's very best trainers and is currently 2nd on the NSW Trainer's Premiership and 4th on the National Trainer's Premiership.
In only his first year as a trainer Kris won the Gosford, Wyong and Scone training premierships.  In the following season he trained two Group 1 winners in County Tyrone and Vitesse Dane.  Kris won his third Group 1 race when County Tyrone won the Sydney Cup and added to this tally with Samantha Miss winning the AJC Champagne Stakes, Flight Stakes and VRC Oaks.  Kris has now won 15 group 1 races.
Kris received six horses from Prime Thoroughbreds on Bill Mitchell's retirement.  He went on to win races with five of these including wins at Randwick, Canterbury and Warwick Farm.  The Prime team was flying when Equine Influenza struck in August 2007 which closed our NSW operation until February 2008.  The strong team we had established was decimated and we had to almost start from scratch.
Overall, Kris has done an excellent job for us.  His winners for Prime Thoroughbreds include Savoureux, Hidden Wonder, Rose Of Scotland, Under Command, Pitt Street, Raido, The Wasp, Not Surprising, Isthmian, Hazy Blur, Stimuli, Funny As, Makossa, Ohmygod, Munjai, Captain Chaos, Admiral's Cup, Sweet Talkin Woman, Valize, Magnifique Lass, El Tegra, Izacat, Unser, Miss Bulawayo, Albert's Image, Black And Tan, Resinite, Gold Circles, Namsarai, Our Sphinx, Terra Amata, Prime Shadow, Go Arrivederci, Lomazzo, Shining Brooke, Ilecebrous, Chalmers, Tuqiri, Miss In Charge and Athena Nyx.
Kris trained our first Magic Millions winner when Hidden Wonder won the 2010 Magic Millions Cup at the Gold Coast.  This was a great thrill for all of us.
Recently Kris trained Gerety our first 2yo winner for the 2022/23 Season and has several nice young fillies in work including Athena Nyx, the winner of two of her four starts.
Kris Lees offers us a high-class metropolitan trainer at an affordable price.  He is a pleasure to deal with and gives us 100% all the time.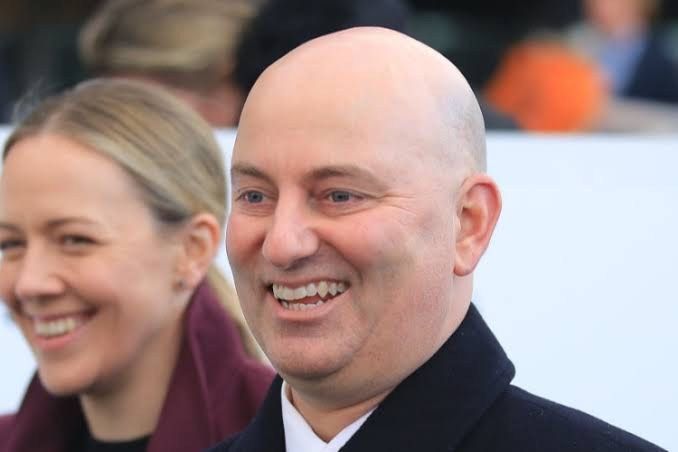 John Thompson
John Thompson was born to be a horse trainer. John is a 4th generation trainer and is the second son of Sydney premiership winning trainer Vic Thompson Jnr. John has been around horses all of his life and has had the best grounding a young trainer could hope for as he branches out on his own after four years as the head trainer for Nathan Tinkler's Patinack Farm Racing Stable.
John Thompson was born to be a horse trainer.  John is a 4th generation trainer and is the second son of Sydney premiership winning trainer Vic Thompson Jnr.   John has been around horses all of his life and has had the best grounding a young trainer could hope for when he branched out on his own in 2013 after four years as the head trainer for Nathan Tinkler's, Patinack Farm Racing Stable.
 John commenced working for his father Vic when he was the head trainer for the Ingham families Crown Lodge and then accepted the position as Sydney foreman for Bill Mitchell where he did a great job for four years.  The best horses in the stable were Dignity Dancer, Kenwood Melody, Snippet's Lass and Akhenaton.  John was also important in the formative years as Prime Thoroughbreds started to grow.  His advice to me was invaluable and always considered when we were placing our horses or managing their careers.
When Bill closed his Randwick Stable down John took up the position as head foreman for the powerful Bart Cummings Randwick Stable.  He stayed in that position for eight years and I know after speaking to Bart that John was a highly regarded member of his team and sorely missed when he left.
For the next four years John was head trainer at Patinack Farm.  There is no doubt this provided John with many challenges but in his quiet but competent style, John navigated around the problems and did a remarkable job for Nathan Tinker.
John really established his reputation during this time where he has successfully guided the careers of such outstanding gallopers at Nechita, Longport, Peron, Tremec, Pane In The Glass and Sookie.
I'm thrilled to be able to support John and look forward to him training many winners for us in the years ahead.  It may surprise you that horses trained by John have won 70 stakes races including 6 at Group 1 level.  He has an impressive conversion rate of 10% stakes winners to winners.
I have been extremely pleased with the job John Thompson has done for us.  He is a fine horseman, and it is appropriate to give you some highlights on his achievements for Prime Thoroughbreds.  John's conversion rate of winners to stakes horses for Prime Thoroughbreds is extraordinary standing at 37.5%.
John's winners for us include the Sydney metropolitan and Country Cup winner Makeadane which was the first horse I syndicated with John. The Grafton Guineas and three times Sydney metropolitan winner Reneged which also ran 3rd in the 2018 Grafton Cup as well as the Canterbury winner Kissing Game.
John did a great job with Almerheri which ran a terrific 4th on debut at Randwick coming from the tail of the field in a race that was run in course record time and then won her maiden impressively at Randwick.  She went on to win three metropolitan races in Sydney in 2019.
It appears we may have something special with John in the flying mare Fituese.  She has won seven of her thirteen starts including wins at Randwick, Warwick Farm and Canterbury.  She won the Group 3 Toy Show Quality and Listed Denise's Joy Stakes and looks to have a big future.
Fituese was the Joint NSW BOBS Horse Of The Year in 2019/20 Season.
He has done a good job with the Super One filly Embeller with her winning twice and being placed at Randwick.
But I felt the best was yet to come with Xtremetime heading up a strong team of 2yo's with John.  She looked quite special but was killed in an accident in the Group 2 Silver Shadow Stakes.
John did a great job with Tillotson with her winning at Canterbury at only her 5th start.
John has been involved in the careers of some of the best horses to race in Australia in recent years.  Races these horses have won include the Melbourne Cup, Caulfield Cup, AJC Derby, Caulfield Guineas, Railway Stakes, Coolmore Stakes, VRC Oaks and Magic Millions and many more.  John trained the outstanding filly First Seal which defeated Winx four times.  Enough said!!!
I had been looking for a Randwick based trainer for some time and having worked with John for four years I was thrilled when he became a public trainer once Nathan Tinkler started winding back his team.
It was a mark of John as a man that he stayed with Nathan Tinkler to the end making sure the best result could be secured for the staff and horses under his care.  John has some nice young horses in work for Prime Thoroughbreds.
Patrick Payne
Patrick Payne was always destined to be a success in the racing industry. He is the eldest member of the famous Payne family which hails from Ballarat in Victoria.
He burst on the scene when he rode Soho Square in win the AJC Doncaster Handicap as an apprentice in 1992.
I was at Randwick that day and little did I know Patrick would be training for me 31 years later.
He started riding at 14 and was the youngest rider ever to out ride his apprentice's allowance. He was closely associated with the Champion gallopers Northerly and Tie The Knot.
Patrick Payne has a long family involvement with horse racing and was granted a trainer's license in 2008. He has been quietly building a strong team out at Plumpton in Melbourne's west.
Patrick takes a hand on approach to training and is known for his patience.
I first came across Patrick Payne when he started riding for us in Melbourne in the 2000's. Patrick was a superb rider possessed with a great feel for the horses under him. He rode with terrific success overseas and was at the very top of his game when he decided to retire due to continuing issues with his weight.
Not many jockeys make a success as a trainer but Patrick has certainly done that since he commenced training in 2008.
Patrick trains from a 320 acres property at Plumpton on the outskirts of Melbourne. He has a 2400m dirt track, 2400m grass track and an 800m straight incline track.
Patrick has done a great job for Prime Thoroughbreds guiding the careers of some outstanding gallopers including Rubisaki, Husson Eagle, The Nephew, The Cunning Fox, Quang Tri, Casa De Lago, Atalanta Miss, Zizzis, Invincible Al, Seonee and Birdies Galore.
Here is a summary of the yearlings purchased from 2013 to 2020 for Patrick by Prime Thoroughbreds to have raced.
In total 30 of the 43 yearlings to have raced are winners having won 94 races and returned $6,445,524 to date in prizemoney. (In addition to this the retired mares were sold for $1,604,500 in Public Auctions on completion of their careers with Prime Thoroughbreds. This takes the gross returns to $8,050,024).  The 30 winners collectively were purchased for just $1,974,500 ($65,816 average purchase price).
Six of the 30 winners are still racing in our team.  I expect The Devil In Her, Palulu, Capistan, Rubikai and Another Nephew which have raced but not won to win races. This would see us having 35 winners from the first 43 horses to race with Patrick (81%).  The current value of the 30 winners is far greater than the combined purchase price of these horses to have raced with Quang Tri alone, valued at about $500,000.
An impressive part of our story has been 47% (14 of 30) of the winners with Patrick are Stakes, Magic Millions, Inglis Race Series or Metropolitan winners.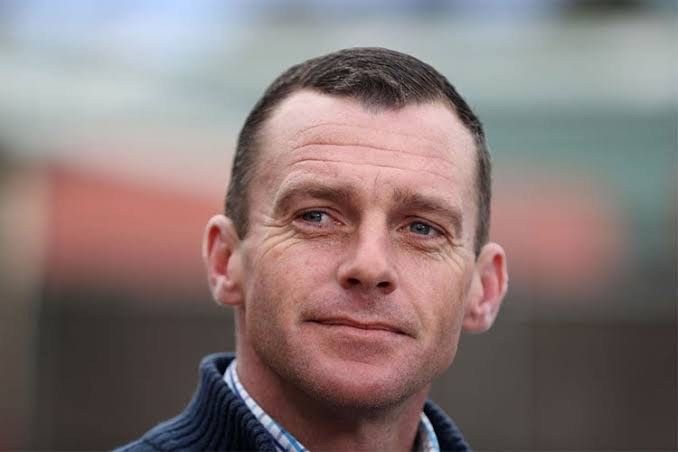 Adam Trinder
Adam Trinder comes to Prime with strong endorsement from Patrick Payne together with a recommendation from Tasmanian Hall of Fame trainer Charlie Goggin – himself a long time trainer for Prime Thoroughbreds. 
Adam Trinder was born to be a horse trainer. Adam is a 3rd generation trainer from the famous Trinder Family in Northern Tasmania. Adam's grandfather Ray owned the Melbourne Cup winner Piping Lane.   Adam was a highly successful jumps jockey before turning his hand to training.  He achieved a major milestone when Mystic Journey recently became the first Tasmanian trained galloper to win a Group 1 race on the mainland in over 120 years.
I have been very impressed with Adam's approach to the job at hand and his level of communication is far superior to many bigger stables on the mainland.
Adam did a wonderful job with Our Long Sali. She didn't win but ran 2nd in the Tasmanian Guineas, Tasmanian Oaks, Tasmanian 1000 Guineas and Strutt Stakes.  She could easily have won all four races.
The following year we stepped out a very good 2yo in Vivilici which ran two slashing second lacings and a closeup 4th in the Listed Elwick Stakes.  She has now won five races and $133,807 in prizemoney.
In 2020 I purchased Adam one yearling with him being named Needs Remembering.  He has been a bit slow to mature but scored a convincing 3 1/2 length win withy more wins likely on the strength of this victory.
 I currently have three horses with Adam including Bine, an unraced 2yo filly I purchased for him at the 2022 Magic Millions Sale Ready To Run Sale. Watch that space!!!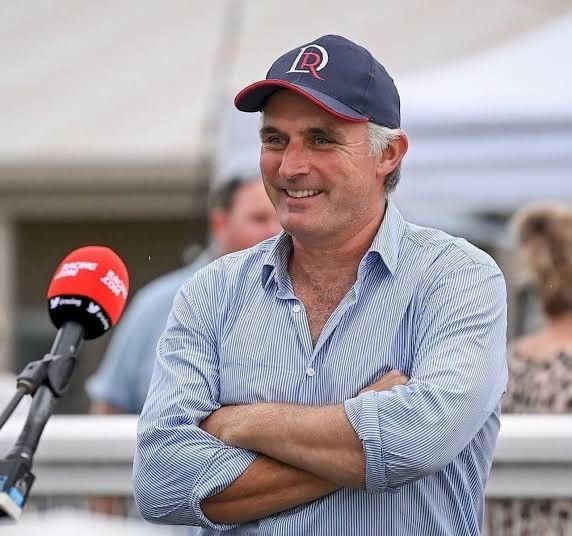 Tom Dabernig
I have been looking for the right trainer to back up Patrick Payne in Victoria. When Tom Dabernig announced he was leaving Lindsay Park I spoke with him and he accepted my offer to be our second Victorian based trainer.
I had a lot to do with Tom when he was a foreman and trainer at Lindsay Park in SA. During the seven years I had horses at Lindsay Park we had a lot of success and Tom was an important part of some great days with horses such as Unchain My Heart, Lord Monty, Unabated, Maha Chakri, Eramor and Mosse Diva.
Tom has done a remarkable job for Prime Thoroughbreds winning two races with one second, a third and fourth in just six races.
The job he has done with Tillotson is outstasnding with her winning two of her three starts including at Moonee Valley in Class Record time.
Tom is a third-generation horse trainer and a family member of one of the most successful racing families in the world. Born on the 19th April 1976 and raised at the famous Lindsay Park property in Angaston, South Australia. Tom grew up learning all the facets of the family business under the watchful eye of his grandfather who was a great teacher. Tom is a quiet achiever and sat back and watched Colin go about his business. In his formative years he worked closely with his grandfather, before working full time at the property. Tom's mother, Jan, is CS Hayes' daughter and Tom's father Arthur, worked as Lindsay Park's Stud Master. Arthur worked at Lindsay Park for 39 years.
Career Timeline
1993 – Joined the Lindsay Park racing tea, working in the Angaston Stable.
1999 – worked for leading trainers in both England and Ireland.
2004 – obtained his trainer's licence.
2014 – entered into a training partnership with David Hayes
2017 – Victorian and Metropolitan Trainers' Premiership
2020 – Victorian Metropolitan Trainers' Premiership
2020 – became head trainer of Lindsay Park.
2020 – awarded leading trainer of the 2020 Flemington Spring Carnival. The highlight being Group 1 Victory with the VRC Oaks 3yo filly Personal. Between 2014 to 2020, the training partnership won 19 Group One Races.
Dabernig Racing. In 2021, Tom made the decision to establish his own business and relocated to Warrnambool, Victoria in an exciting new chapter. Tom has the experience and desire to continue to evolve as a trainer. He is passionate about the country environment as a preferred place to train horses and is eager to incorporate the beach and all the facilities that Warrnambool has to offer into his training regime.